Mexico is among the countries with the best cuisine in the world. Famous Mexican cuisine is characterized by flavorful ingredients such as corn, chili peppers, tomatoes, cocoa, and vanilla. Mexican food also has a reputation for being spicy. The food is an important aspect of the culture, social structure and popular traditions of Mexico. Here are some of the most popular Mexican food:
---
Tortilla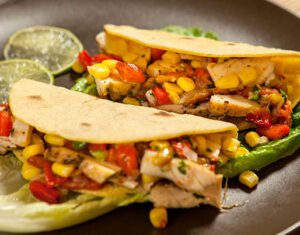 Tortilla means "little cake" in Spanish. In Mexico, Central America, as well as in English, it refers to a flatbread made from corn or wheat originally made by Mesoamerican peoples. Mexican tortillas are most commonly prepared with meat to make dishes such as tacos, burritos, and enchiladas, however, there are many alternate versions without meat.
---
Burrito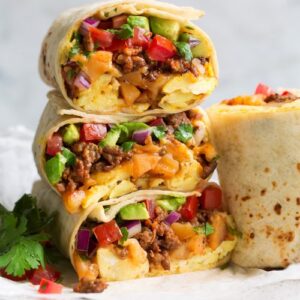 A burrito is definitely one of the most popular Mexican food. It consists of a flour tortilla wrapped or folded around a filling. Mexican rice, refried beans, and meat are the most common fillings of a burrito. But other combinations of ingredients such as lettuce, salsa, sour cream, avocado, and cheese may also be used. The flour tortilla of a burrito is usually lightly grilled or steamed to soften it.
---
Carne Asada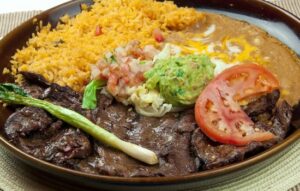 Carne asada literally meaning "roasted meat." It is a roasted beef dish which mainly consists of thin cuts of beef. The meat can be marinated or lightly salted and then grilled. Carne asada is often used as the main ingredient in tacos and burritos. But it can also be eaten as a stand-alone. This dish is commonly prepared in the northern parts of Mexico.
[adsense]
---
Quesadilla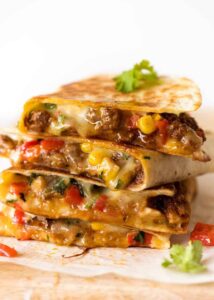 Quesadilla is made of round tortilla, folded in half and filled with Oaxaca cheese, then cooked until the cheese has melted. Quesadillas are served with green or red sauce and chopped onion and acidified cream on top, to add taste to cheese. Other ingredients are also used instead of cheese in traditional Mexican quesadillas, including cooked vegetables, potatoes, chorizo, pumpkin flowers, mushrooms, and different types of cooked meat. In addition to the fillings, quesadillas are often served with toppings such as sour cream, avocado or guacamole, chopped onion, and parsley. Salsas may also be added as a topping. The northeast part of Mexico has a variation of quesadilla wherein wheat flour tortillas are used.
---
Chilaquiles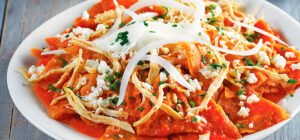 Chilaquiles is a popular traditional breakfast dish which features lightly fried corn tortillas cut into quarters and topped with green or red salsa. Scrambled or fried eggs and pulled chicken are usually added on top, as well as cheese and cream. Chilaquiles are often served with refried beans.
---
Taco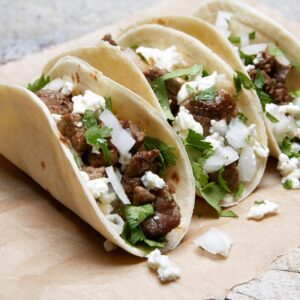 A taco is another type of food in Mexica. It is a traditional Mexican dish composed of a corn or wheat tortilla folded or rolled around a filling. A taco can be made with a variety of fillings, including beef, chicken, seafood, vegetables, and cheese, allowing for great versatility and variety. A taco is often accompanied by garnishes such as salsa, cilantro, tomatoes, onions, and lettuce and is generally eaten without utensils.
[adsense]
---
Birria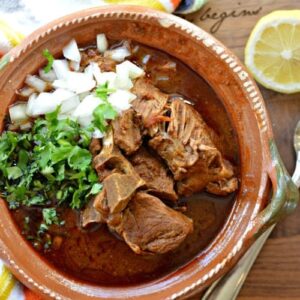 Birria is a spicy Mexican meat stew usually made with mutton lamb or goat. It is made using a base of dried roasted peppers and served with corn tortillas, onion, cilantro, and lime. Birria is served by combining a bowl of broth with freshly chopped roasted meat and eaten by filling a corn tortilla with the meat, onions and cilantro, seasoning with freshly squeezed lime juice, and then dipping it into the broth before eating it. The broth itself is also eaten with a spoon or by drinking from the bowl. It is often served during festive periods, such as Christmas, New Year's Eve, birthdays, and weddings. Birria is a favorite Mexican food and is common Mexican food establishments.
---
Tostada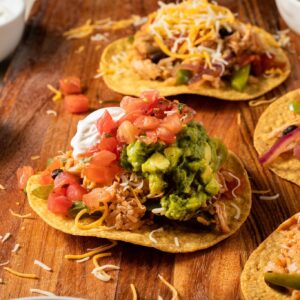 Tostada literally means "toasted". It refers to a flat or bowl-shaped tortilla that is toasted or deep fried. The Tostada initially has its origin in the need to avoid waste when tortillas went stale, no longer fresh enough to be rolled into tacos, but still fresh enough to eat. The old tortilla is submerged in boiling oil until becomes golden, rigid and crunchy. It is served as a companion for different kinds of food, mostly seafood, and spicy stews such as Birria. Tostada has other variations just as when salsa, beans, cheese, chopped lettuce, sliced onions, and meat are spread onto the tostada, making it like a pizza.
[adsense]