The kitchen is often referred to as the heart of the home, a place where both meals and memories are made. With the rapid evolution of technology, our kitchens have become more than just spaces to cook; they're becoming hubs of high-tech appliances designed to make our lives easier and our cooking experiences more enjoyable.
In this realm of culinary innovation, the toaster oven has emerged as a pivotal player, evolving far beyond its humble beginnings. It's no longer just a tool for toasting bread or heating up leftovers; modern toaster ovens now boast features like air frying, convection baking, and even smart connectivity.
Among these modern appliances, the Comfee Flashwave toaster oven stands out. This review delves into this appliance, a product from a relatively new name in the industry. Comfee might not be a household name yet, but its entry into the market with the Flashwave toaster oven is turning heads and challenging traditional notions of what a toaster oven can do.
The focus of this review is on the Comfee Flashwave 24QT toaster oven, a multifunctional appliance that promises to transform the way you cook. From air frying to baking, this toaster oven is designed to cater to a variety of cooking needs while occupying minimal counter space. In a world where kitchen space is often at a premium, a versatile and efficient appliance can be a game changer.
Let's find out if the Comfee Flashwave lives up to its promises. Does it deliver on the versatility and efficiency it claims? How does it compare to its competitors in terms of functionality, design, and user experience? We will explore all these aspects and more, providing an honest and thorough review to help you decide if the Comfee Flashwave toaster oven is the right addition to your kitchen arsenal.
Read our Comfee Flashwave toaster oven review and find out how good is this new piece of hardware from a fairly new player in the industry.
Ever Heard of Comfee?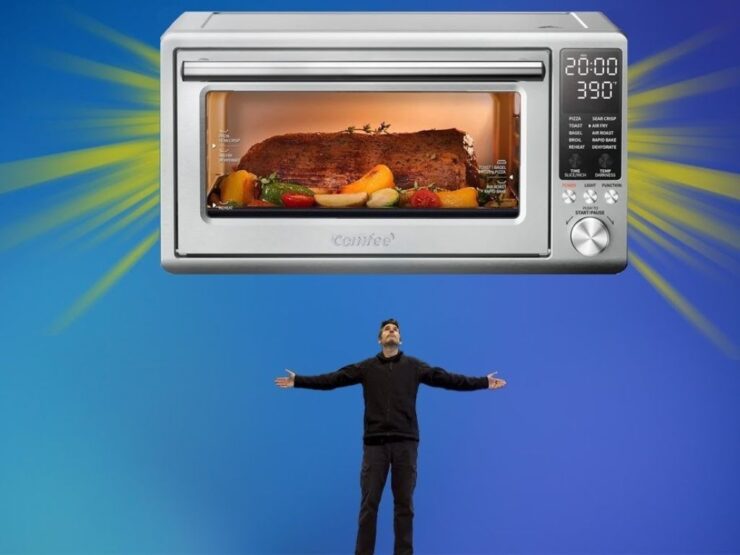 The industry of cooking appliances is flooded with literally hundreds of brands everywhere and we are witnessing a quick transition of traditional appliances moving to air frying and more healthy options. In this, Comfee has settled itself as a reliable and innovative brand that doesn't break the bank.
We established this after using Comfee's new 24QT air fryer toaster oven (24QT is equivalent to 23 liters capacity of this oven). Everything we "fried" turned out crispy and brown, including the batter-fried chicken, which was just as crunchy as popular fast-food items. We tried baking some cookies and daily white bread which was extremely evenly toasted and matched the color we wanted, from light yet dry to dark but not quite black.
We had fantastic success baking after decreasing the baking time and oven temperature to avoid over-browning. Let's first break down why you should get this Comfee Flashwave toaster oven and what is not so good in it:
The Good:
Foods come out crispy
Toasts evenly thanks to its S-shaped element
Clever way of controlling modes
Significantly Faster Cooking times
The Bad:
Generic design, not very modern
What Do You Get in The Box?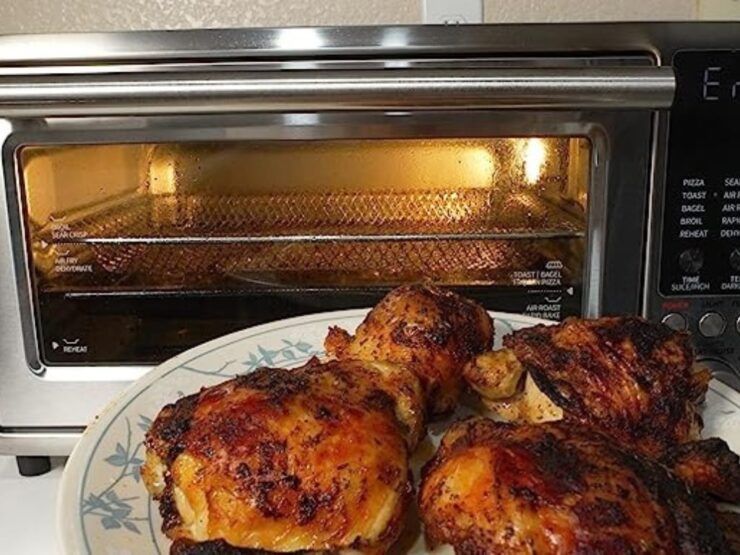 Four pieces of paper work; One tips and tricks, two user manuals, and surprisingly a very nice cookbook. Do follow the tips and tricks sections to minimize smoke and avoid common mistakes. Accessories are packed in a rather common plastic bag including a baking tray, crumb tray, and an air frying basket.
The enamel coating on the baking tray makes it quite glossy for a tray that adds convenience for cleaning (we will get into it later). The oven itself is wrapped in a nice protective system packaging.
An Appealing Outershell
This toaster oven has a somewhat traditional look that doesn't appear excessively modern but still is attractive and surely will appeal to many out there. This toaster oven requires much less space on a kitchen counter thanks to the smaller width size of its body. It can nicely fit beneath a typical cabinet.
Despite being very small, it can hold a full roasted chicken, six slices of bread, and three pounds of fries as advertised by Comfee. In our test, we were only able to roast the chicken which was well accommodated in the oven along with individual tests of toasts and French fries.
Graphene: A Gimmick or Does It Work?
One thing that is worth mentioning here Until the Comfee Flashwave toaster oven is how quick it is in cooking and preheating, thanks to its newly adopted element, Graphene. This symmetrical molecular structured element makes it particularly effective in transmitting heat and makes possible cooking times significantly lesser.
Performance Is Staggering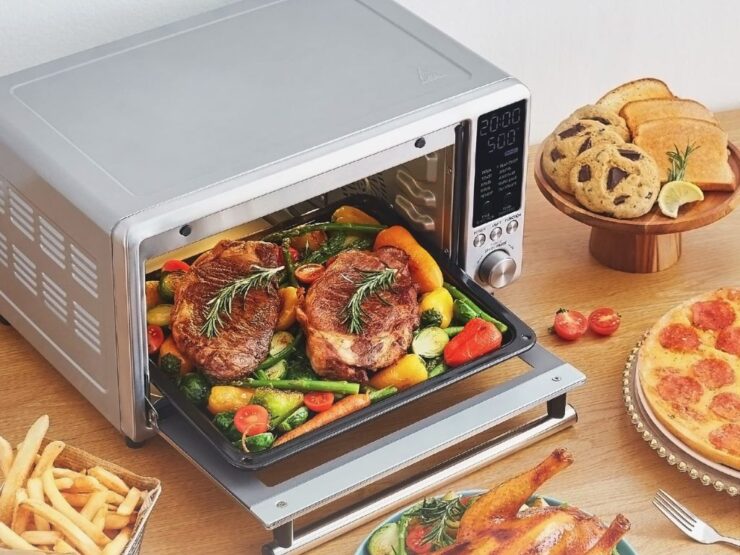 In our testing, we noticed that it offers a lot of variety for the money with a low setting for slow cooking and braising, as well as dehydrating and proofing modes. The cooking time was very fast, much less as compared to recently reviewed ovens from other manufacturers including Cuisinart, Gourmia, and two others.
We tested it by airfrying two pounds of chicken wings oven to see if it could air fry evenly. We air-fried them at 360 degrees Fahrenheit for 12 minutes before flipping them over and air-frying for an additional 12 minutes. To complete this, we performed a second flip of the wings and air-fried them for six minutes at 390°F. After inspecting the food for crispiness and cooking consistency, we cleaned the appliance and manually scrubbed the fry basket.
Even if you use a self-contained deep fryer, air frying is unquestionably less dirty than conventional deep frying with this oven. One thing to keep in check is that the grease splatters when the tray is removed, making cleaning time-consuming and not much great experience.
The toasting of bread is quite even with this oven too. One piece of white sandwich bread was placed in the middle of each oven, and it was then lightly toasted. We looked at how evenly the bread was toasted on the top and bottom, as well as how long it took to get the desired results. Whether you go for select light, golden, or dark brown toasted bread, you will get extremely precise outputs from this oven.
Verdict
With this Comfee Flashwave toaster oven, you will treat yourself to some serious wholesome, and mouthwatering meals. With little to no oil, Flashwave tech built in the 24QT evenly fries food and does it very quickly. The use of graphene makes a difference and the cooking functions are easy to use. You also get a nice digital control panel with plenty of presets at such an affordable price.
The oven appeals to us with the built quality and nice finish of the exterior. 24QT is a highly recommended oven if you are looking for a nice and compact air-frying toaster oven in the year 2023. It does everything right in a price and new tech, that's hard to find in competitors.