Undoubtedly eating is a pleasure in life, and preparing your own dishes and then eating them is even more satisfying.  What's an even greater pleasure? Sharing with others your tasty dishes, and receiving impressive feedback.
The variety of ingredients to use and combine opens a wide range of options to create delicious meals. One of these ingredients is rice. This staple food has outstanding characteristics for use in any preparation. It has an excellent texture and light flavor, and you can cook delightful dishes fast in a few easy steps.
You can use rice in breakfast, lunch, or dinner, as a complete meal or side dish, even for desserts and drinks. Paella, risotto, fried rice, rice and chicken, pilafs, red rice, are just some of the meals you can cook with this special grain.
This staple food is perfect for making a fancy dish for big celebrations, a romantic date, or for preparing fast meals when you are in a hurry. Whichever way you choose to use rice, you can be sure you will always have superb results every time. You and your diners will end up happy and satisfied.
Quick and easy rice recipes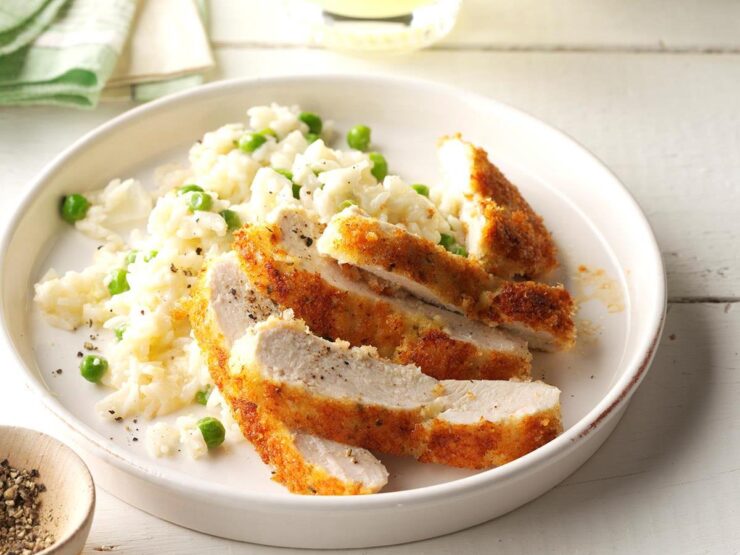 Even if you are far from being an expert cook, you can prepare countless meals using rice. First, start with simple recipes with few ingredients, and then try more complicated dishes or even create your own, pairing diverse flavors and textures.
The secret of a successful dish is to have the right ingredients and use the proper cooking method. Rice is normally cooked in the stove, oven, or microwave. Depending on what you'd want to prepare, you can just use any of these cooking methods. All rice recipes are very easy to follow, explaining in detail how to prepare rice, so no worries ahead for getting excellent results.
To make your adventure more enjoyable, you will find a huge variety of rice types in stores. You can choose among white rice, brown rice, basmati, and jasmine, among others. And even some types with natural extra flavors added like garlic, paprika, cilantro, lime, and chicken.
If you want to make quick and easy meals, you should buy any of these rice types, but in an instant version. Instant rice is a good option for people who want to cook delicious rice in a short time.
The instant rice consists of pre-cooked rice, then dried and packed to your convenience in different packages sizes or ready-to-serve cups. All dishes prepared with this rice are equally delicious with an excellent texture and flavor.
This type of rice can be cooked traditionally in a pot on your stove. It can also be prepared in ovens, microwaves, instant ports, and rice cookers as you will cook regular rice.
You can substitute normal rice with this version in any recipe without changing the quality and taste of your meals, however, it will reduce cooking time. Try cooking chicken and rice instant pot with this recipe: https://minuterice.com/recipes/15-minute-chicken-and-rice-dinner/ and prove the benefits of instant rice.
There are countless quick and easy rice recipes. Let's try some of them:
1. Chicken and Rice Dinner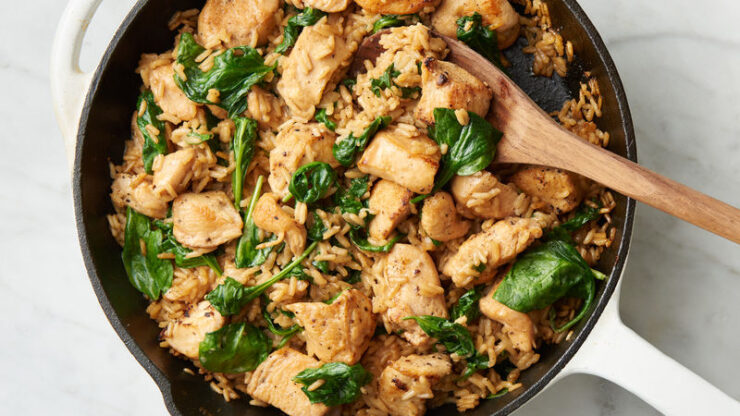 Servings: 4                        Prep time: 5 minutes                   Cook time: 15 minutes
Ingredients:
1 1/4 pounds of boneless chicken breast.
1 tablespoon of vegetable oil.
1 ½ cups of chicken broth.
1 1/2 cups of water.
1/4 teaspoon of paprika.
2 cups of instant white rice.
2 cups of fresh broccoli florets.
Salt.
Pepper.
Preparation:
Season chicken breast with salt and pepper.
Heat some oil in a skillet and cook the chicken until both sides turn brown. Then take it out.
Add more oil in the skillet and pour the chicken broth, water, and paprika. Stir very well.
Bring to a boil and add rice and broccoli.
Cover and cook until rice is tender.
Serve.
2. Rice casserole with chicken and cheese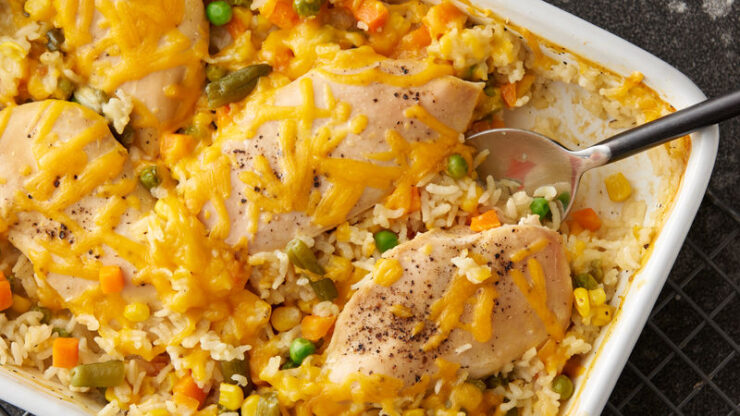 Servings: 4                        Prep time: 15 minutes                 Cook time: 40 minutes
Ingredients:
2 1/2 cups of instant white rice.
1 pound of chicken breast.
1 cup of chicken broth.
1 can of cream of chicken soup.
1 can of mushroom cream soup.
4 cups of shredded cheddar.
1 teaspoon of salt.
1/2 teaspoon of ground black pepper.
Preparation:
Preheat the oven to 350 degrees F (180 C).
Cook the chicken in water and salt, shred it, and reserve.
In a saucepan, boil water. Then, add rice and cook until rice is tender. Reserve.
In a bowl, mix shredded chicken, 3 cups of cheddar, chicken broth, chicken cream soup, mushroom cream soup, salt, and pepper.
Grease a baking casserole with butter and add the mixture.
Bake for 20 minutes, uncovered.
Sprinkle the remaining cup of cheese over the dish.
Bake for 10 more minutes.
Take it out of the oven and allow it to cool down a little.
Serve.
3. Quick chicken risotto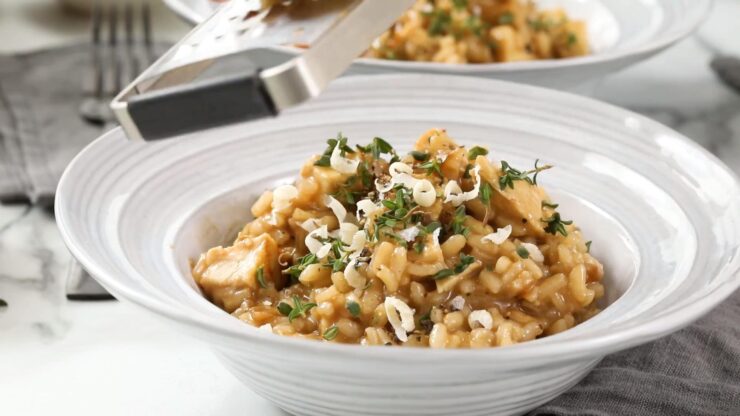 Servings: 6                        Prep time: 10 minutes            Cook time: 20 minutes
Ingredients:
3 1/2 cup of chicken broth.
400 grams diced chicken thighs fillets.
500 grams of diced pancetta.
1/2 minced small onion.
3 minced cloves garlic.
1 1/2 cup of Arborio rice.
1/2 cup of white wine.
1/2 cup of shredded Parmesan cheese.
2 tablespoons of butter.
4 large egg yolks.
Salt.
Fresh parsley.
Extra Parmesan cheese for garnish.
Preparation:
Put a saucepan over medium-high heat, and pour the chicken broth. Bring to a boil.
Meanwhile, in a skillet, sauté diced pancetta and cook until it releases the fat and crisps.
Take the pancetta out of the skillet, and wrap it with kitchen paper to absorb extra fat. Reserve.
In the same skillet with the pancetta fat, incorporate onion, garlic until they are tender. Add chicken, cook, until it gets a golden color. Then, incorporate rice, and stir very well.
Pour wine and deglaze. Add the boiled chicken broth.
Cook at high heat. Then, reduce the heat and mix.
Incorporate Parmesan cheese, butter, and pancetta until you get a smooth and creamy texture.
Add the egg yolks, salt to taste, and cook for 5 minutes. Stir well to avoid sticking.
Serve immediately with extra parmesan cheese and minced fresh parsley on the top.