For centuries, rice was used as the base for the daily diet in every house. As a result, rice has been the key ingredient for multiple emblematic dishes for many countries.
It can be enjoyed in savory traditional dishes, and in sweet desserts as well. To name only a few: Paella Valenciana, Mexican Rice, Italian Risotto, and so much more. On the sweet side, there are Mochis, Thailand sticky rice, Arancini, Arroz con Leche and the most delicious dessert: rice pudding.
Rice pudding is a popular dessert that you have probably already tasted or at least, heard of. The secret of this sweet dish is to use the right ingredients and the proper cooking technique.
How to cook rice pudding?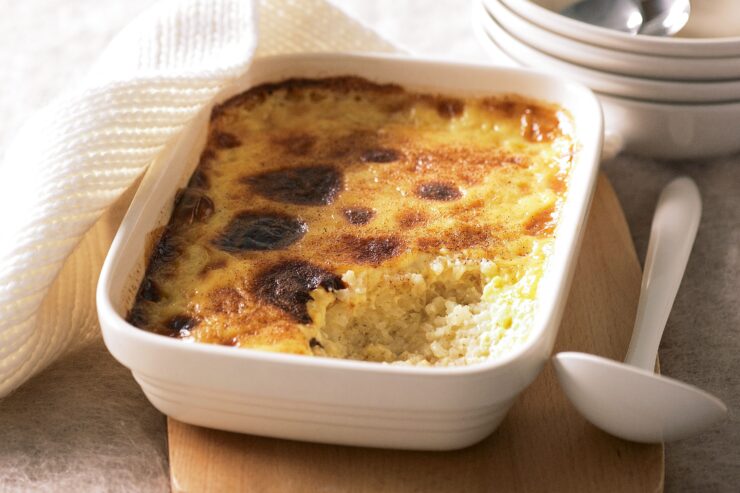 A delicious and creamy rice pudding requires few ingredients and a bit of patience to cook it perfectly. The classic main ingredients are rice, milk, water, sugar, and cinnamon. Once you've learned the basic recipe, you can move up adding other ingredients according to your taste. When it is ready, you can also add different toppings to augment its flavor. The usual toppings are dried fruit, fresh fruits, jams, among others.
The most used cooking technique for making rice pudding is in a saucepan on the stove. You only need to put in a pot all the ingredients in the correct order, stirring constantly, and cook in low heat. You'll get a creamy and very sweet dessert. Check out this in-depth guide on Pearl Couscous for a closer look at this rice-substitute: https://riceselect.com/product/riceselect-pearl-couscous
You can also prepare rice pudding in an oven. The final dessert with this technique is a custard-style dish, less creamy but with a more concentrated flavor.
Baking rice pudding is considered an old-fashioned technique, although people who make the dessert in this way affirm that this is the best rice pudding ever. It comes out from the oven with a golden skin on top that gives a crunchy texture.
Both cooking methods result in a delightful rice pudding. Cooking times differ, though: the pudding on the stove takes about 30-40 minutes to be ready, while the baked rice pudding can take 1½ to 2 hours.
The best rice pudding recipes
The Rice pudding recipe on the stove is widely known. It is the most commonly used recipe since its way of cooking is quicker.
Let's take a look at this recipe:
Rice pudding on the stove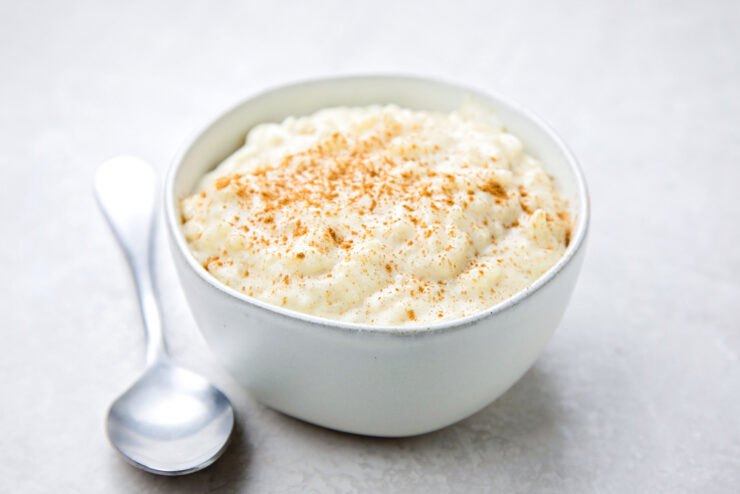 Servings: 6       Prep time: 5 minutes       Cook time: 45 minutes
Ingredients:
5 1/2 cups of whole milk.
1/2 cup of white or brown sugar.
1/2 tablespoon of salt.
1/2 cup of short-grain rice.
2 tablespoons of pure vanilla extract.
1 tablespoon of butter.
Ground cinnamon for garnish.
Preparation:
Add 5 cups of milk, sugar, and salt to a saucepan. Cook at medium heat until it boils.
Incorporate rice and reduce heat. Cook and stir constantly for 45.
Turn the heat off and add ½ cup of milk, butter, and vanilla extract. Stir very well.
It can be served hot or cold. If you want it cold, let it stand for an hour, then refrigerate.
Serve with ground cinnamon on the top.
Useful tips:
Use short-grain rice like Arborio. It is the perfect sticky texture for a creamy rice pudding.
When adding the rice to the saucepan, stir constantly to prevent rice from sticking at the bottom.
Once you have added all the ingredients, don't let it come to a boil. Cook it on low heat.
Rice pudding in the rice cooker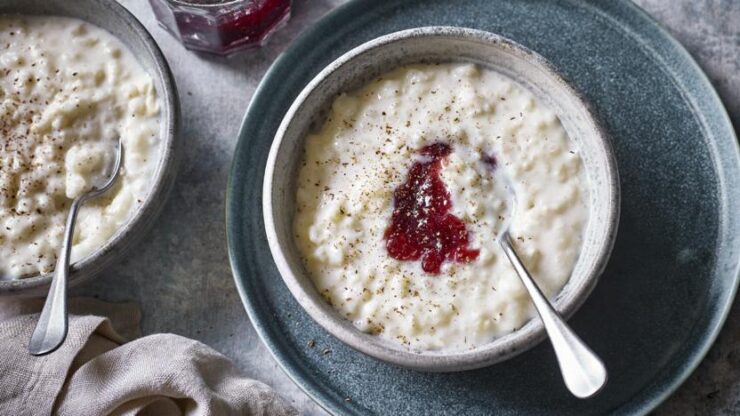 If you are looking for an even quicker rice pudding recipe, try to cook it in a rice cooker. Some people affirm the result is as good as the rice pudding cooked traditionally. Besides, you do not have to babysit your rice or be constantly stirring it, since the rice cooker does all the work for you.
Servings: 4       Prep time: 5 minutes       Cook time: 40 minutes
Ingredients:
5 ½ cups of milk.
2 cups of short-grain rice.
1 cup of white sugar.
½ teaspoon of ground cinnamon.
1 tablespoon of pure vanilla extract.
Preparation:
Put rice and milk in a rice cooker pot.
Choose the option Porridge in the menu, and set the time to 70 minutes.
Press On key.
When the rice cooker changes to a Warm setting, add sugar, cinnamon, and vanilla extract. Stir very well.
Choose again the option Porridge and set extra 20 minutes.
Take the rice out of the rice cooker pot, and let it stand.
Serve with cinnamon on the top.
Useful tips
Use short-grain white rice. Do not rinse rice; it will need all the starch for getting the creamy texture.
Do not let the rice and milk boil; depending on the type of rice cooker, you must be careful of preventing the mixture from boiling. If your rice cooker has a close lid, you do not have to close the lid when it begins to boil.
Baked rice pudding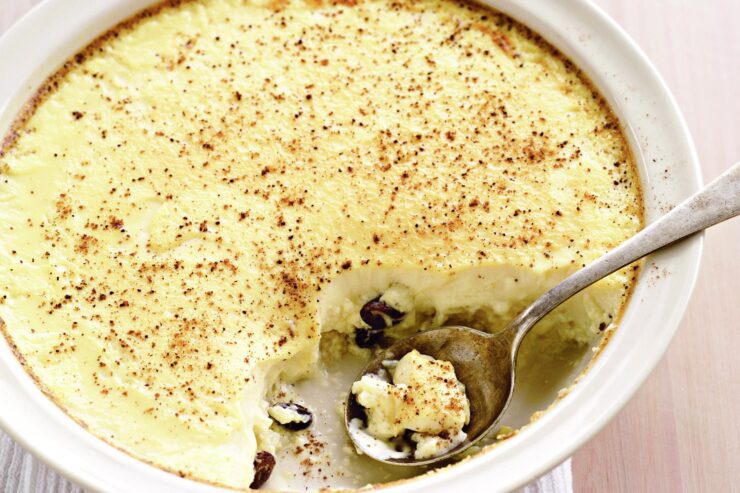 Despite taking a longer cooking time, a baked rice pudding is so delicious it is worth the wait. You have to try both methods for deciding which one tastes better or which is easier for you.
Servings: 4       Prep time:       20 minutes       Cook time: 1 ½ hour
Ingredients:
1 cup of long-grain white rice.
2 cups of water.
2 cups of milk.
½ cup of white sugar.
1 stick of cinnamon.
1 teaspoon of ground cinnamon.
1 teaspoon of vanilla extract.
Lemon zest.
Preparation:
First, cook rice. In a saucepan, add the water, rice, and cinnamon stick.
Bring to a boil and reduce heat.
Simmer uncovered for 20 minutes.
Preheat the oven to 350 degrees F (180 C).
In a bowl, mix milk, sugar, vanilla extract, and rice.
Place this mixture in a baking dish.
Bake uncovered for 45 minutes.
Stir it very well and add cinnamon all over the dish.
Bake for 30 more minutes.
Take out of the oven.
Serve.
Useful tips
When cooking rice, make sure the grains are tender and cold before mixing with the rest of the ingredients.
You can use individual baking plates or a large baking dish.
Grease the baking dish with butter before pouring the mixture.
For getting golden custard, add some sugar along with the cinnamon at the top.