Rice as a staple food is everywhere. You can find it in any part of the world: on traditional dishes, kitchen cabinets, renowned recipes, and high and low end restaurants all around the globe. Suffice it to say rice has been part of human life since we can remember. However, you would be surprised to know there's a more nutritious alternative for rice, more protein-filled and with more vitamins for a balanced diet: this is the famous Couscous.
When talking about Couscous, keep in mind even though sometimes it can be considered a grain, it is obtained from the semolina of durum wheat, so the taste is somewhat mild; quite like how nuts taste. This quality comes in handy to cook couscous in various ways, including it with broth, on a side with stew, or prepared into salads.
The origin of couscous is not well established yet. Some historians located its use between the 12th and 13th centuries in Tunisia, Algeria, and Libya. It is believed that it was made of barley and acorn flour, then durum wheat was the preferred grain of its composition.
Three types of couscous are well-known today: Israeli, Moroccan and Lebanese. Moroccan couscous is the tiniest and fastest to cook; Israeli couscous is a bit larger and the most pasta-like; and Lebanese couscous is the biggest and the one that takes the longest to prepare.
One of the most famous variants is the Israeli Couscous (also known as Pearl Couscous). Occasionally confused with a type of rice, it's proved to taste more pasta-like, which makes it perfect to pair with anything. Its unique pearl shape brings out a fun option to include in your meals. Check the following link at carolinarice.com/cooking/how-to-make-the-perfect-rice-pudding/ to learn more about this delicatessen.
How to cook Pearl Couscous?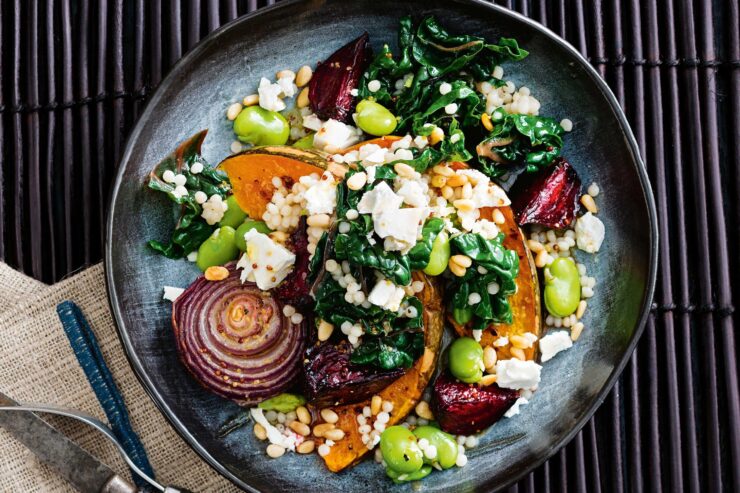 Because of its size, cooking Israeli Couscous takes a little longer, nonetheless, it is a rather simple process that will not take you more than 15 minutes. The easiest method is to set a cup of couscous on a pot or saucepan and fill it with a cup and a half of water. Wait until it boils and lower heat, letting it simmer until the texture is tender. If necessary use a colander to drain the water excess.
You can always try out different recipes and add your favorite sides, some protein, vegetables, or a few spices to jazz up your couscous and enjoy a meal with all the colors.
For an extra kick, before you cook the couscous on water, toast them with a tablespoon of butter or oil for 3 to 5 minutes.
If you're still not sure about Pearl Couscous, here are some delicious recipes to try and get the hang of this tasty no-fuss ingredient.
Lemon infused Israeli Couscous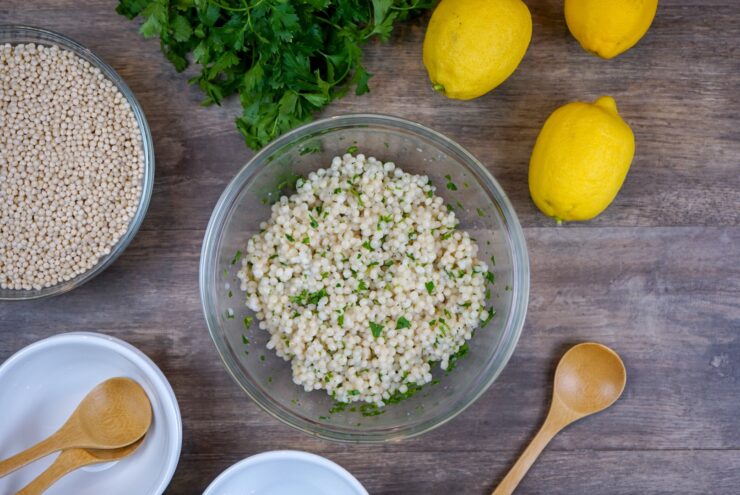 This recipe is sure to leave you quite satisfied. Here's what you need:
1 cup of Israeli/Pearl Couscous.
1 tablespoon of butter.
1 small shallot (previously diced).
Zest of half a lemon (the other half for garnish).
1 ¼ chicken stock or water.
¼ Parmesan (shredded).
1 tablespoon of parsley (finely chopped).
This should be enough to make you feel satisfied, but feel free to add in any type of side you'd like. Here's a step by step on this flavor-infused recipe:
Start by setting a small pot on medium heat and add the butter, shallot, and the zest of half a lemon.
Let the butter melt and mix with the lemon zest and shallot for about 3 minutes, this will allow the butter to absorb the flavors of the other ingredients.
Now you can add the cup of Pearl Couscous and make sure the butter and shallot mix is covering them properly, we are aiming to toast the Couscous a little, should take around 2 minutes.
Throw in the chicken stock or water (pro tip: chicken broth gives it a more savory taste), add some salt and pepper to enhance the flavor, and bring it to simmer, cover it for 10 minutes.
Take a fork and fluff the couscous to separate the grains. Take the Parmesan cheese and make it rain! Mix well.
You're done. Serve with a bit of chopped parsley and a little more Parmesan cheese (it's never enough), use the other lemon half to get more zest, and bring everything together.
Couscous stuffed tomatoes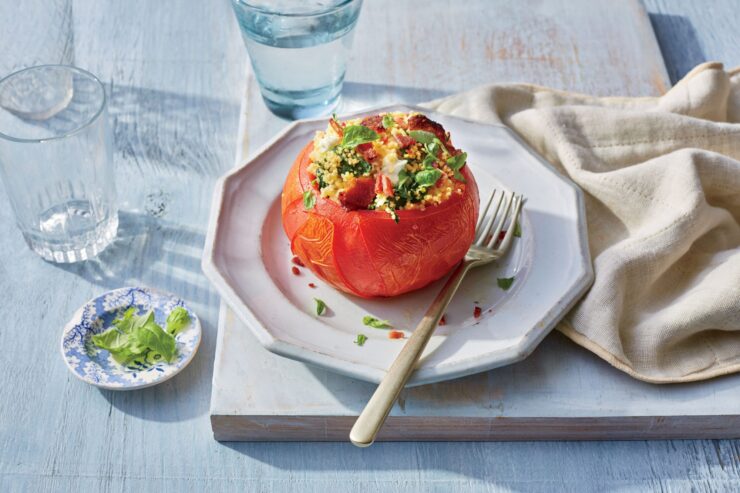 You can use this fresh preparation as a starter or light dinner. This recipe highlights tomatoes and herby couscous flavors, with a top of creamy goat cheese. You will need:
1/2 cup of uncooked pearl couscous.
4 large fresh tomatoes.
1 cup of vegetable broth.
2 tablespoons of olive oil.
1/4 cup of chopped wild mushrooms.
1 clove of crushed garlic.
Fresh mixed herbs to taste (you can use parsley, cilantro, and green onions)
10 to 15 chopped black olives.
4 to 5 ounces of goat cheese.
Salt and pepper to taste.
Panko crumbs to cover.
Extra olive oil to drizzle over.
The step by step to make this fresh dish is as follows:
Before doing anything else, start by heating the oven to 350°F. Then, start preparing other ingredients. First, cut a slice off the top of the tomatoes, and with a spoon, carefully scoop out seeds and pulp.
Put the tomatoes on a roasting plate, and add some olive oil to their insides.
Now, let's prepare the couscous filling. Place couscous and olive oil in a bowl (make sure the whole couscous is covered with oil). In a pot, bring to a boil the vegetable broth, and pour in the bowl with the couscous. Add salt and pepper, cover and let it stand for 5 minutes.
For the rest of the filling; pour olive oil in a skillet, heat, and add garlic and mushrooms. Stir very well and cook until they are tender.
Uncover the bowl with the couscous, incorporate mushroom and garlic mixture, herbs, olives, and goat cheese. Mix all together and add more salt and pepper.
Fill each tomato with this mixture and sprinkle on the tops with more goat cheese, panko, and olive oil.
Place the roasting plate in the oven, and roast uncovered for 20 minutes until tomatoes are cooked and the tops are crisp.
Serve warm.
Enjoy!
Pearl Couscous is here to stay, and with these perfect recipes, you'll no longer remember the days when only rice was an option. If you found these dishes delightful, try more techniques of cooking Couscous, you will not regret a moment of it.