Any event that you hold should always be well catered. The type of food you serve should be in line with the type of event you are holding if you are holding a themed event. Here is a list of some of the classic Australian foods to serve if you are hosting an Aussie-related event such as Australia Day, the AFL Grand Final, or the Boxing Day Test match.
1. Meat Pies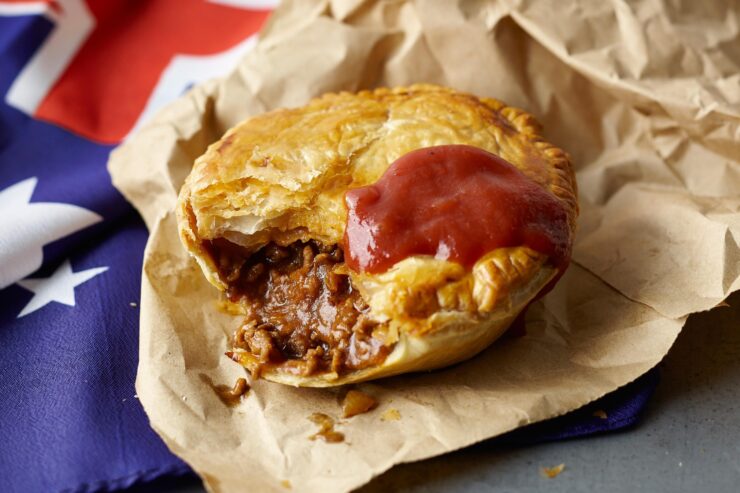 A good old meat pie is a must for anyone attending a football or cricket match and everything in between. Party pies, which are essentially tiny versions of meat pies, are extremely popular at home-hosted events and there is very rarely a time in Australia you would attend an event without seeing these on the table. An injection of sauce into the pie is a common trope amongst Australians, while some choose to remove the top and eat the meat with a fork then devour the pastry lastly. Meat pies can be bought at major supermarkets or from cozy little bakeries, and are commonly made at home by people with the know-how.
2. Chicken parmigiana
Now a staple in pubs and restaurants all over Australia, when served with a side of chips and salad, the Chicken Parmigiana has become almost synonymous with Australian cuisine. The dish is known under a few names depending on where you live in Australia; Parmy, Parmi, or Parma. Chicken parmigiana is basically a crumbed breast of chicken topped with slices of ham or bacon and then generously covered with tomato sauce and parmesan cheese. People tend to have their own styles of cooking it; some people prefer mozzarella cheese and some make the dish without the ham or bacon. Either way, it is a great meal to be had at any event.
3. Pavlova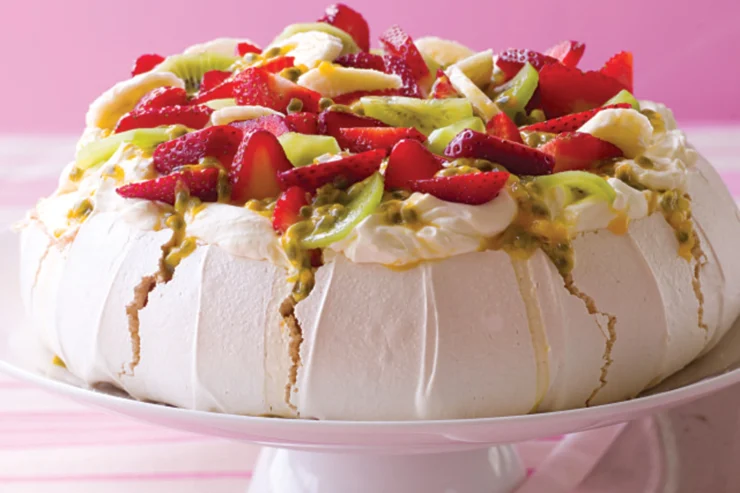 Though it may have originated in New Zealand, pavlova is a token Australian dish to serve at your next event or gathering. A tasty meringue base gives a wonderful texture to this popular dessert and the whipped cream and fruit filling is nothing short of delicious. If you're looking for a token dessert that would keep any Aussie happy, this is one that has lasted throughout the ages in Australia. Whether it's a backyard BBQ or an elegant dinner party you're throwing, pavlova is one of the easiest dishes to make that has a huge visual impact on your table spread.
4. Vegemite on toast
This is a staple food for all Australians, especially at breakfast time, but it can be enjoyed at all times of the day. Having some good old-fashioned Vegemite on toast while watching the Kennedy Cantala Stakes on Derby Day is about as Australian as you can get. For Europeans, it is similar to Marmite, but with a slightly different tang to it. Some people hate it, while others come to like and then love it.
5. Fairy bread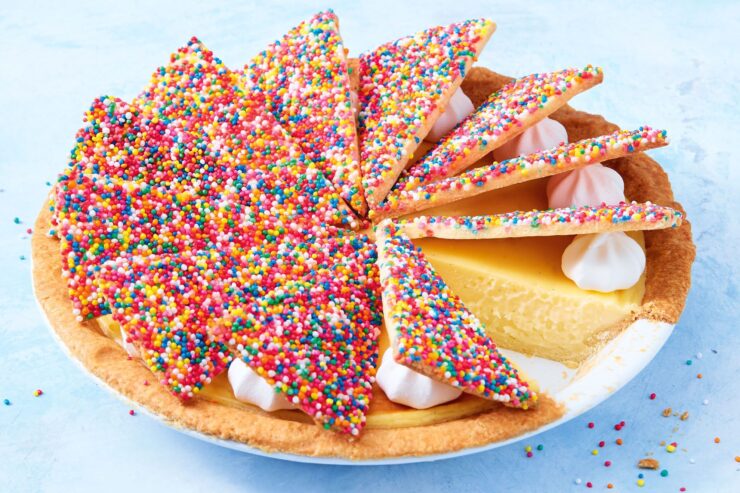 Though this easy-to-make sweet treat is more of a highlight at children's parties, the nostalgia behind a simple piece of white bread that is slathered in butter and covered in sprinkles is something that should never be overlooked. Any adult Australian will have experienced fairy bread in their younger years so this is one menu item that you can pull out that will surprise and delight any Aussies at your table.
6. Lamingtons
Although invented in New Zealand, Lamingtons have become known as an Australian dessert that goes well with a cup of tea or coffee. They are described as being a vanilla sponge cake, covered in chocolate sauce and then rolled in desiccated coconut. It is sometimes filled with jam and makes for a great treat at the closing of your themed event.
7. Snags (Sausages)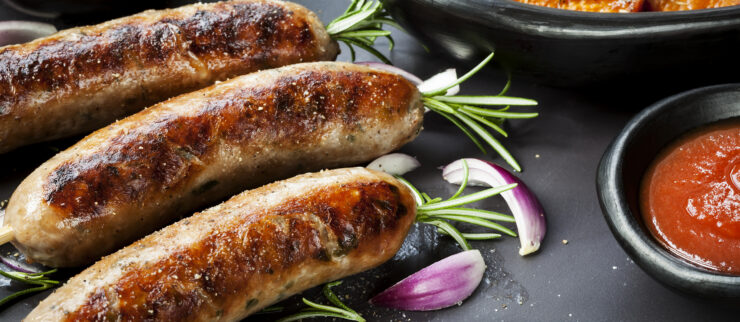 This is a no-brainer for anyone wanting to serve Australian food at an event. Every Australian with a barbeque will have "snags on the barbie" when hosting an event. Obviously, Australians didn't create sausages but they did coin the term "snag" and putting it in a slice of bread and covering it with sauce is part of a great way to celebrate any event be it at home, or at the beach, or while you are camping. The great thing about snags is there are many ways to cook them. Most of the time, sausages are cooked on the BBQ, but they can also be cooked under the grill or in a pan.
8. Lamb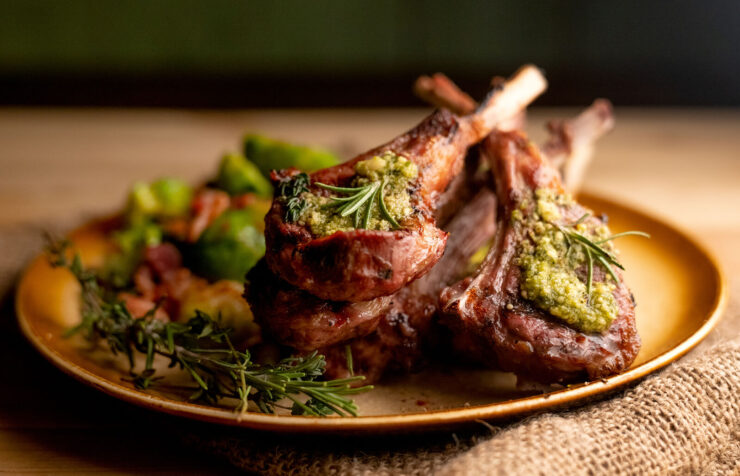 Keeping with the meat and BBQ theme, a lamb chop or cutlet is a juicy and delicious addition to any BBQ event. For more formal dinners, maybe a roast lamb leg served with all the trimmings might be the better choice, but either way, lamb is one of Australia's favorite meats to enjoy at a gathering. These days you can even incorporate lamb into your sausage selection with plenty of gourmet options available in most mainstream supermarkets and butchers.
9. Zucchini slice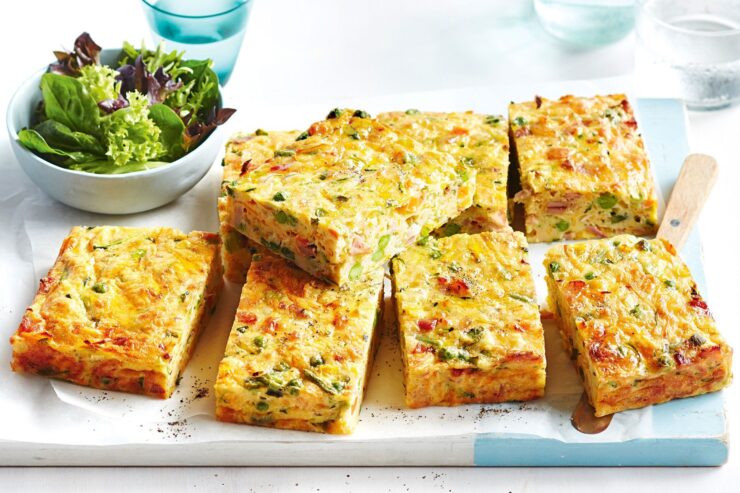 Not quite a frittata but not quite a quiche, the zucchini slice is a common addition to many buffet tables and lunch boxes in Australia. This is a versatile dish that can be eaten warm or cold, served as a main or as an appetizer, and enjoyed by vegetarians as well as the meat eaters at your gathering. The humble zucchini slice is a great way to include some color on your lunch or breakfast table with a healthy kick that tastes fantastic.
10. The classic Aussie burger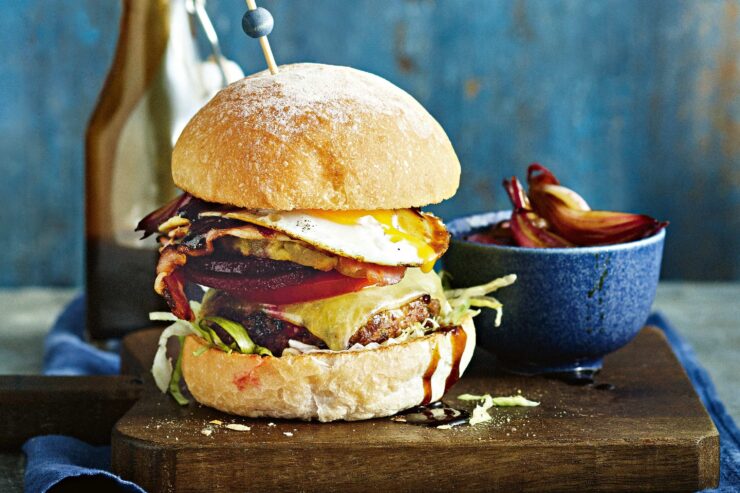 Australian households love a good burger just as much as many other places around the world, but a traditional Aussie burger has a few different ingredients than some might be used to. The 3 additions that are made to a typical beef burger that make it uniquely Australian are tinned pineapple circles, a fried egg and tinned beetroot slices. Though it might not sound like the most appealing combination to some, this classic Aussie creation is steeped in Australian tradition and is worth an attempt for any Down Under themed party or event.
Australia may not be widely known for its cuisine when compared to other, more famed destinations but the culture does have a lot to offer the culinary world if you start to scratch the surface. Try an Aussie theme for your next party or gathering and see just how much you can impress your friends and family with all the new ideas that it can bring.